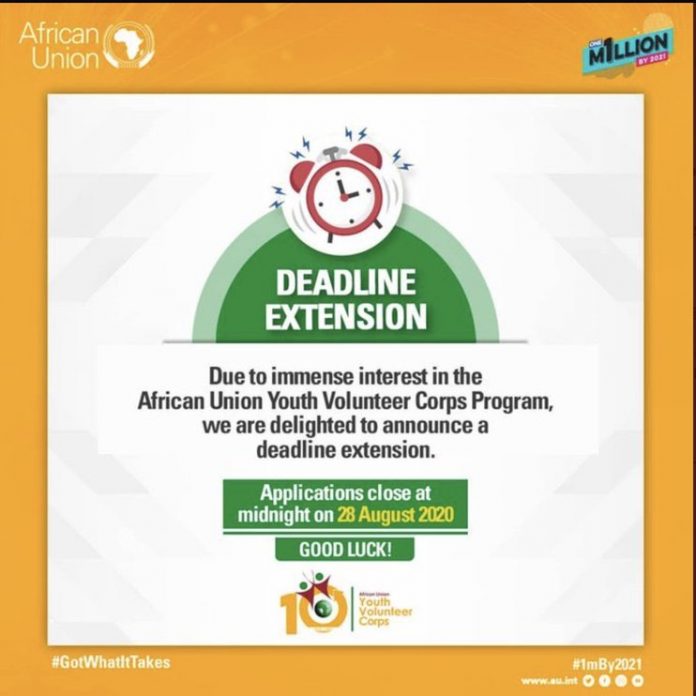 African Union Youth Volunteer Corps 2020
Application Deadline:
28 August 2020 midnight (Addis Ababa time)
The African Union Youth Volunteer Corps (AU-YVC)
, established in 2010, is a continental development program that promotes youth volunteerism in Africa. The program aims to deepen the status of young people as key actors in Africa's development targets and goals, enhancing their participation in policy development as well as design and implementation of relevant interventions towards the Africa Union's Agenda 2063, 'The Africa we want'. It brings people together to share skills, knowledge, creativity and learning to build a more integrated, prosperous and peaceful Continent driven by its citizens.
The volunteering opportunities are intended to build professionalism and a sense of responsibility among the participants, thus enhancing their employability. Young African professionals are recruited to serve for a period of 12 months as AU Volunteers in an AU
Member State other than their own.
As an African Union Youth Volunteer you wll be deployed to serve for a period of 12 months in your respective professional field. Through the AU-YVC program, the AUC ims to achieve the following objectives:
Empower African youth through leadership and professional experience.
Mainstream youth in Pan African Organizations.
Promote Pan Africanism and integration through exchange.
As an AUYV you will play a catalytic role in supporting Africa's Development Agenda (Agenda 2063) and bring in a youth lens in the various policies and programs you will be engaged in and play your role towars and integrated, prosperous and peaceful Africa driven by its citizen – in particular its Youth.
You will be deployed for a period of 12 months outside your own country which will expose you to new cultures, and socities where you will be required to adapt, learn and add value to your organization and your host community at large.
QUALIFICATIONS AND WORK EXPERIENCES REQUIRED
In order to be considered for the program, you need to satisfy ALL of the following eligibility requirements:
Applicants have to meet the following criteria:
Citizen of an AU Member State living on the continent or the Diaspora;
Aged between 18 – 35 years (must be under the age of 35 when completing 12 months service)
Have a post-secondary certified qualification(s) (TVET, Bachelor's, Master's etc.)
Available in 2018/19 to dedicate 12 (twelve) months for volunteer work;
Willing to live and work in another AU Member State;
Is proficient in at least one AU working language (Arabic, English, French, Portuguese);
Have at least one year verifiable volunteering experience and one year professional work experience.
The AU-YVC is looking for motivated young leaders who embody the following qualities:
• Embodies the spirit of Pan-Africanism;
• Committed to Africa's shared values of an Integration, peace and development.
• Embodies the spirit of service & servant leadership;
• High degree of professionalism
• Solution oriented & can demonstrate results;
• Able to work and thrive in challenging, multi cultural settings including post conflict environments;
• Respectful towards cultural, intellectual, religious and linguistic diversities;
• Strong interpersonal and organising skills;
• Flexible, independent and self-motivated;
LANGUAGE REQUIREMENT:
Proficiency in one of the African Union working languages, proficiency of two or more in other of one or several
other working language(s) would be an added value.

TENURE OF APPOINTMENT:
The appointment will be made on a Short Term contract for a period of One (1) Year, of which the first three (3)
Months will be considered as a probationary period.
GENDER MAINSTREAMING:
The AU Commission is an equal opportunity employer and qualified women are strongly encouraged to apply.
REMUNERATION:
For the successful candidates, the African Union Commission will cover the full costs of their pre-deployment
training and deployment.
African Union Youth Volunteers are entitled to the following:
Economy return air ticket from home town to place of deployment.
A modest monthly stipend.
Health Insurance cover.
AU Service Passport.
Separation allowance on successful completion of twelve (12) Months service.
HOW TO APPLY:
To submit your application:
Create an account on the
http://aucareers.org/ porta
l (instructions and video tutorial available)
Fill out your personal information and the application form
Attach the following documents:
Your updated professional CV (no longer than 3 pages)
Bio page of your passport (or national ID)
Copy of your highest completed qualification (no transcipts)
Attach a letter of recommendation (not older than 2 years) attesting to your leadership qualities
Attach your cover letter. In your cover letter please respond to the following questions:
• Why do you want to become an African Union Youth Volunteer?
• What makes you the best candidate for AU-YVC?
• What skills are you bringing to the AU-YVC and your host organization?
Review and submit your application before: Thursday, 16 August 2020 midnight (Addis Ababa time)
Apply Now for the 11th Batch African Union Youth Volunteer Corps
For More Information:
Visit the Official Webpage of the African Union Youth Volunteer Corps (AU-YVC) 2020
---
Creez votre CV professionnel en quelques minutes !